Disclaimer:
All Star Wars trademarks and images on this website are Copyright and Restricted by Lucasfilm Ltd and Hasbro, Inc. Original material is copyrighted by Erik Schroeder, 1997 - 2010. This is an unofficial fan site that is not affiliated with Lucasfilm Ltd or any of its licensees.
Brent Montague
Kir Kanos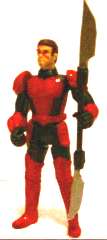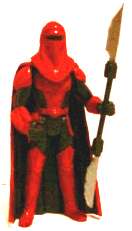 Recipe and picture by Brent Montague
I used a Coruscant Guard body minus the arms. For the arms I used the swoop troopers and for the human head I used a Jurassic Park 3 Dr. Grant head. The cape is modified from the Royal Imperial Guard, and the helmet is also from it. The weapon is pieces from the Leia Bousch figure and then blades are just cut plastic. The only sculpted parts are parts of the upper arm armor, gun holster, and neck garment. Everything else was just repainted.