Disclaimer:
All Star Wars trademarks and images on this website are Copyright and Restricted by Lucasfilm Ltd and Hasbro, Inc. Original material is copyrighted by Erik Schroeder, 1997 - 2010. This is an unofficial fan site that is not affiliated with Lucasfilm Ltd or any of its licensees.
Brent Montague
Jango Fett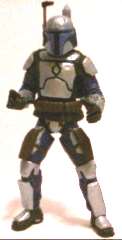 Recipe and picture by Brent Montague
This is a basic 300th anniversary edition Boba Fett that has had the leg pouches and belt pouches taken off and dremeled down. Additional pouches were added on the belt and the figure was completely repainted. The shin armor was added with sculpey as was the armor on the boots, and gun holsters.