Disclaimer:
All Star Wars trademarks and images on this website are Copyright and Restricted by Lucasfilm Ltd and Hasbro, Inc. Original material is copyrighted by Erik Schroeder, 1997 - 2010. This is an unofficial fan site that is not affiliated with Lucasfilm Ltd or any of its licensees.
Brent Montague
Jacen Solo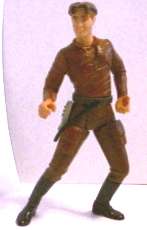 Recipe and picture by Brent Montague
He was made from a Han solo body without the vest with a Titan AE Cale head. I sculpted the cargo pockets on the pants as well as the shirt shoulder pad design. Repainted and added a "gizmo" on the side for good measure.