Disclaimer:
All Star Wars trademarks and images on this website are Copyright and Restricted by Lucasfilm Ltd and Hasbro, Inc. Original material is copyrighted by Erik Schroeder, 1997 - 2010. This is an unofficial fan site that is not affiliated with Lucasfilm Ltd or any of its licensees.
Brent Montague
Clonetrooper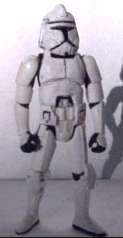 Recipe and picture by Brent Montague
This is my clonetrooper figure. It was a regular stormtrooper figure with a LOT of sculpting work. The helmet was sculpted over the current one as was the chestplate and knee guards. Repainted and then added a blaster rifle. A simple custom but the helmet was tough.