If you've got to tie the knot, best to do it adorned with white gloves, tuxedo tails, and a lightsaber. Now that's class! What started out as something fairly low key, with me just wanting a chocolate Darth Vader as my groom's cake, quickly grew into one strange ordeal. With the exception of the cake, I didn't have anything else related to Star Wars planned, so most of these things were orchestrated behind my back by my family and friends. (The wedding ceremony itself was a very traditional Catholic mass, with no Star Wars stuff whatsoever. The lightsaber "battle" at the reception lasted about 5 minutes. The "second line" was about 3 minutes.) I am actually somewhat shy about my Star Wars mania, but all the guests said this was definitely the most memorable wedding reception they'd been to. Even my wife Juli, who generally borders on toleration when it comes to all this Star Wars stuff, got a kick out of it.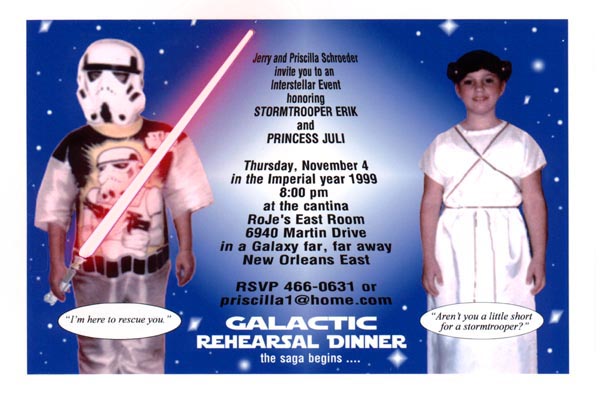 It all started with this rehearsal dinner invitation (not a
wedding invitation), which my creative mother made on the computer
herself from some old photos. I love this. It's one of the best wedding presents we got.

This is a special custom set I made for our rehearsal dinner.
I started these figures one day before the rehearsal, so I had to
work fast. I didn't really know what Juli's dress would look like, so I had
to guess. I gave her the buns because that's the way her hair was on the
invitation my mother made. At the rehearsal, they sat on the table in front of us
while we ate. Unfortunately, Juli was not impressed when I asked her if we could put
the figures on top of her wedding cake. Oh well.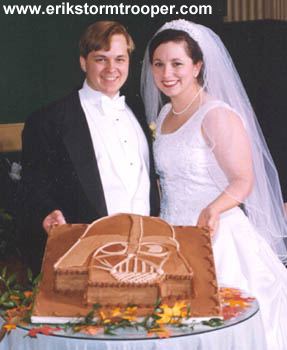 The one thing I wanted to have at my reception was a
chocolate Darth Vader head as my groom's cake. After my
constant complaining, Juli finally agreed to let me have the cake
I wanted. Hey, it was the groom's cake.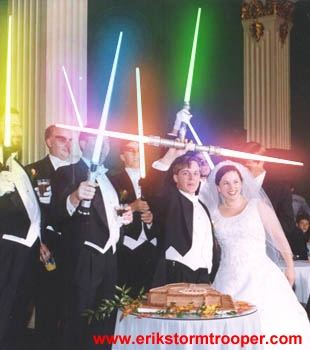 To my surprise, the Star Wars Main Title started to play at the
reception, and all of my groom's men appeared with lightsabers. I was
then handed my Darth Maul lightsaber, and I felt all eyes on me. Seizing
my moment, I flipped open my double-bladed saber with one twist of the wrist,
and the crowd went wild. Notice my best man Ben standing to my right with the blue
Obi Wan saber. I'll come back to him.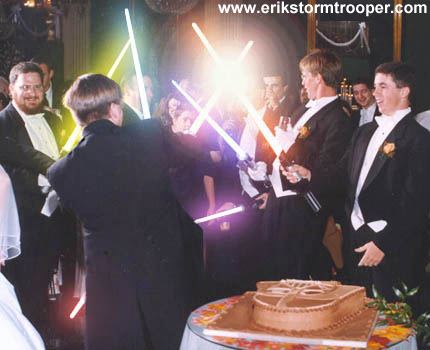 After the intense embarrassment and the Main Title faded, the
Star Wars Disco Theme started to play. With that, a battle ensued.
You can see the edge of Juli's dress to the left as she scooted out of the way.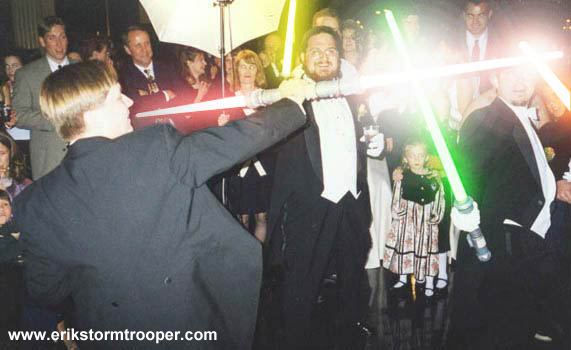 As the music continued, the fighting became more involved. A
few moments after this picture, my best man Ben swung at me. As I
blocked his shot, his Obi Wan saber knocked one of the blades off my
saber. Without realizing the odd coincidence, I stood dazed for a second,
then lunged at him with the remaining blade. Fortunately, I was not cut in half
or knocked down a shaft.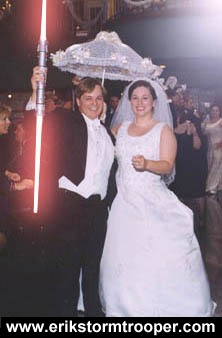 Here Juli and I are partaking in a traditional New Orleans dance
known as "The Second Line." The dance is often done with an umbrella
or handkerchief, but I decided to use my saber. It was the perfect ending for a
perfect day.
The Saga Begins ....